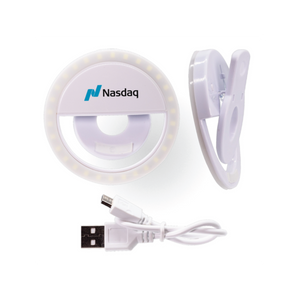 3.5" White Selfie Ring Light

Clips on to any phone
3 levels of light intensity (

soft low light, medium light, and super bright white light)

USB charging, up to 10 hours of usage per charge
Return/Exchange Policy - Returns and exchanges are only available if you received damaged or defective goods, or if you received the wrong size. If you have an item that you'd like to return or exchange, send an email to help@shopnasdaq.com with a picture of the item and the reason you'd like to return or exchange it, and the item you'd like to exchange for, if applicable.
If your item is broken, defective, or if the wrong item was sent, the shop will cover the cost of return postage. If you purchased the wrong size or item, you may exchange the item but you will be responsible for return postage.